We did not have Spring break when we normally do this year. We had it about 2 weeks later because our dad was finally coming  for a whole week! We were all super excited and happy, and were counting down the days. Then, right when he got here— poor guy— we whisked him to Frazer Island with us. It was crazy but it was fun.
     So on the first day of our Spring break we woke up at like 6 o'clock to go to the airport to pick up our dad (not that I'm complaining) and then we had to wait for his flight to arrive because it was delayed. At least Luke and I made up a really fun game. Then when he came out we had to get his bags and get in a line to get on a bus (still not complaining). When we finally got on the bus we got in and they put our bags in the baggage placed we started to drive. We drove to Aussie World and transferred to a smaller bus. This bus then had to undergo maintenance and we had to wait for 45 minutes while this was happening. Then we drove to our place and got a taxi to drive us to Dropbear, the company that we were going to Frazer Island with. We checked in and did everything we needed to and then waited until we left. Eventually other people came and we set out for rainbow beach to pick up more people and then get on the car ferry to Frazer.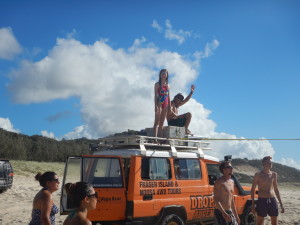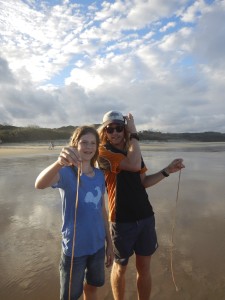 Then we drove to camp to have lunch (wraps—we had them everyday for lunch for three days) and get set up. Our guides Simon and Troy, who-by the way- were super nice, then took us to a big freshwater lake in the middle of nowhere, called Lake Wabee, and we spent like all afternoon there. It was SO fun!! Then we walked back to the cars and drove back to camp.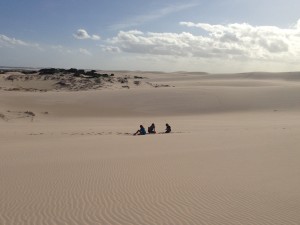 You would not have believed  our camp! It was amazing!! We were literally one meter away from the beach and every morning we would just go over a little bump and we were driving on the beach. I mean how awesome is that!?! We had to use four wheel drive cars for all the sand because Frazer is made completely out of sand, vegetation and some sandstone. Our toilet wasn't that nice but we only had to deal with it for 3 days. Overall I loved camp.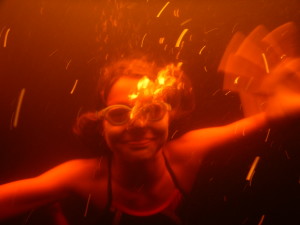 We did other activities in the three days as well. We went to 2 other amazing freshwater lakes and we went hiking to Indians head. We also went to a sacred place for aboriginal women, a giant tree, the champagne pools, a creek (we didn't swim, it was another sacred place), and the beach a lot. It was SO SO SO fun! And we went to a river that we swam in and it was really nice. Troy Simon and Daddy made it really fun as well, so that's good. Overall I think everyone had a great time and totally wants to do it again. Dropbear is a great company and I am really glad we did it with them.