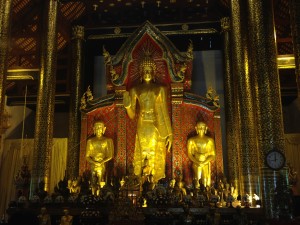 We had ambled around many of the glorious temples in Luang Prabang, learning about the spiritual quest of the Buddha, and its associated animal mythology. So, I suppose it was to much to expect a high level of interest in the larger, more spread out, and steamier offerings of Chiang Mai. Still, undaunted we set forth, and by and large, stuck with the endless, extraordinary gold, the spectrum of serene to grumpy-looking buddhas (no fat ones here, save that for China), the mixing in of the odd ganesha, and huge dragons being swallowed by snakes (NOT a favorite of our dragon-loving Sacha).
In most places there seemed to be a mythical, famous jade Buddha, which we usually searched high and low for, generally getting side-tracked by all the other red-herring jade buddhas strewn in our way.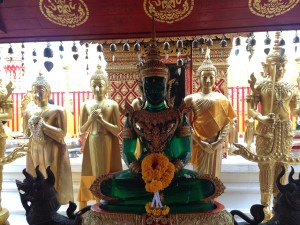 In one ingenious temple, the monks were funding the restoration of the roof by getting visitors to purchase and write a message on a tile.  Most wrote dedications to loved ones.  No prizes for guessing what Sacha drew!
You get caught between feeling a little that 'you've seen one Buddha, you've
seen them all', and a huge fascination at the sheer scale and love for this god, who is represented endlessly, with great reverence and love. Seeing more and more of them gets to be strangely addictive – maybe more for me than for my children, who finally drew the line at walking around a huge stupa, complete with fabulous elephants, to get to yet another beautiful (but eerily familiar) temple.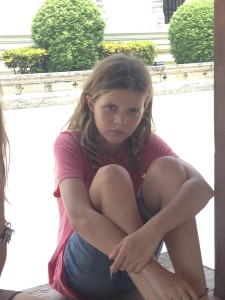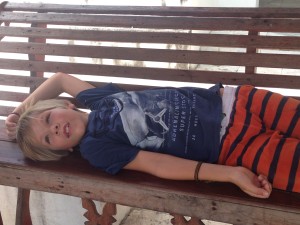 They were finally rewarded with fish nibbling the dead bits of skin from their toes – their temporary version of nirvana!