This is the largest bookshop in Laos. Unfortunately, it caters to foreign travelers, and closed the week we were there! This is a country where most villages have never seen or possessed a book to read for fun. The only 'real' library is in Luang Prabang, where we stayed. No library in the capital, Ventiane. No fiction at all, only a few textbooks in schools. So, until recently, Laotian literacy was dismal. Now, thanks to the tireless efforts of several organizations, it is about 72% – but still dire in rural areas. We met several people who had to walk 10+ hours from the nearest road to get to their village, so yes, pretty remote!
Here are a few amazing people that we met who are starting to change this…
Big Brother Mouse was set up by a retired American publisher who realized that there were NO books published in Laos at all – so nothing to talk to them about their culture, their lives, nothing FUN that would make children want to learn to read, or understand that reading can be enjoyable. In 2006 he published his first children's book, and since then has worked with many Lao students and illustrators to write more. They look at the books that children have enjoyed most around the world, and then decide what would work in a Lao context. At first, books where just written in Lao; now they are often written in both Lao and English, so the children have exposure to the language that (after Lao) can most change the trajectory of their lives. Volunteers can help underwrite book parties, where hoards of books are donated to remote villages, and twice a day volunteers turn up at BBM HQ so that Laos can talk with them and practice their English. We turned up a couple of times to try to help, but found it already bursting with eager helpers.
Our next port of call was to a beautiful riverside house set up and run by the fabulous Carol Kresge. Originally from America, she has spent the last 16 years fundamentally changing the educational fabric of the country by establishing libraries wherever she can, and encouraging creativity in learning. She started with My Library, which is a haven of calm and quiet support. Mothers can come in with their children and play educational games, there are games – such as chess – to help older children develop the strategic and complex analytical skills not taught in school. Then of course, there are books; young children curl up in the day and older children come straight after school to settle down, study and read. At least 150 students aged between 14 and 28 come in every day. Carol and her Lao staff not only know each of them by name, they also know what they are working on.   Carol teaches them English in a thorough, comprehensive way, as well as computer skills.
With help from the community she has instituted photography classes, art classes, computer design. She has run restaurant classes (setting up pretend restaurants with real food) to help train young Lao – who have never eaten in a restaurant – to become waiters. She fundamentally changes her students' lives, and she then relies on them to do the same. In our time in LP we met 3 guides who came from small remote villages and who owed their English (and therefore their livelihood) to her. They all went back and volunteered at Library House to do the same for others. Carol keeps her library open from 9am to 9pm six days a week, and is nearly always there.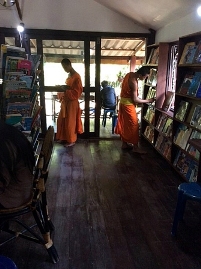 This is only part of what she does, though. My Library is part of the greater vision of The Language Project, which creates community libraries in undeveloped areas. These are usually set up by past students, who see the need in their home communities, and have the drive to set a library up – usually in someone's small home or a school.   There are so many inspiring stories of what has been created by Lao, with the drive and imagination of Carol behind them. To read more, go to:
http://www.thelanguageproject.org/index.php/the-libraries/my-library-luang-prabang
and
http://www.thelanguageproject.org/index.php/About/the-christian-science-monitor-article
Our last visit was to see Chantha, the senior librarian in Laos's largest library. The main Luang Prabang library is also supported by The Language Project, but has implemented some programs of its own. Chief among these are Tuk Tuk Books, where mobile libraries visit villages. Together with Cooperative Learning International, they also run the Lao Children's Library Boats. As many villages are completely inaccessible by road, these boats are invaluable, and are the only two in Laos: They bring books to children in 75 Mekong and Ou River villages, as well as giving book bags of 100 books to more villages. Sadly, we didn't have time to visit and supply books by boat. Instead, we visited after school to help read and teach English to school-children, and supplied books for the book bags.
We take books and their ability to enrich our minds, broaden our perspectives, relax and enjoy so much for granted. This intelligent, sensitive and beautiful culture has none of this. Whilst they are so capable of effecting change themselves, it is sadly true that the government is more prepared to sanction aid via foreigners than directly to locals. Thanks to the dedication and creativity of people like Carol, Lao are being empowered to change the horizons of learning and opportunity for future generations. Each person involved here is having a massive impact on the children of Laos: long may it continue.