One of my earlier posts bemoaned the fact that we hadn't come across much authentic New Zealand – or Maori culture. We had watched the film 'Whale Rider', but this expression of a Maori cultural re-emergence was pretty much lost on us, until we happened upon the Kapa Haka, a biennial Maori festival that this year was held in Christchurch. We rocked up expecting a largely tourist event – we would eat Maori food, exclaim over more handicrafts and the occasional traditional dance etc. Well, the Maoris couldn't care less about the whites and the tourists – this was THEIR festival, and it was amazing.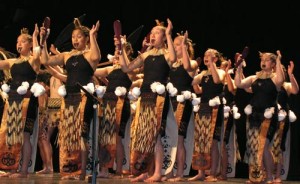 The festival lasts 3 days, and is actually a competition. 50-100 strong dance / vocal / weaponry troops turn up from all over NZ to take part in an intensely competitive, stunningly executed series of innovative takes on traditional routines. These start with waiata tira (warm-up song), whakaeke (entrance song), waiata-ā-ringa (action song), haka (challenge), pou or mōteatea (old-style singing), poi (co-ordinated swinging of balls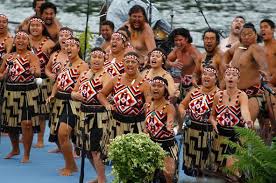 attached to cords), and whakawātea (closing song). Sometimes they also include tītī tōrea (synchronised manipulation of thin sticks). Women and men make up the troop, with some songs done together and some separately. Each full performance lasts about 40 minutes, and there were over 50 troops competing. I sat there doing the maths and realized that across the country there were thousands of Maoris actively reviving and preserving their culture by hour upon hour of study, invention and dedication. I've never seen such cultural togetherness as at this festival. Extraordinary, and a privilege to witness.