You know how most travel blogs talk about the glory of travel, the beauties to be unearthed and the deep, quasi-spiritual truths to be learned from different cultures? Well, this isn't going to be one of those. I am going against all lore about the mystically beautiful, last-land-to-be-unearthed, New Zealand.
Actually, it's a bit pants.
I have already written about my disappointment in the north island – a potted-highlights nature Disneyland filled with endless Japanese. I was looking forward to wowing you with the tranquil yet majestic landscapes of the South, the towering mountains, bottomless lakes, laid-back and friendly people. Well, the thing is that it is all there – we just haven't seen it much. I have fallen victim to an over-enthusiastic travel advisor who pre-booked most of our (nightly) accommodation 3-5 hours driving apart, a daughter who left her computer in a library a 4 hour round trip away, and end-of-season locals, who, quite frankly, can't wait to see the back of all of us high-season folks. Oh, and no husband (the one who most wanted to come here, for whom this part of our year was tailored). Just an over-optimistic, some would say delirious, mother of three.
So, our days seem to have been interminable drones of said mother robotically accelerating / decelerating around endless bends, trying to overtake the 25th cautiously-driving Japanese man in a motorhome, whilst telling bored children to get their maths / Spanish done, with said children then retorting that they feel sick / can't find their maths book / have spilled water all over their sister's Spanish. We then stop somewhere in an ugly town (only Devonport can qualify as remotely attractive so far), where the only food is whitebait fried in egg, a dubious meat pie or a cheese and ham toastie. We are served by people who don't seem to have any shoes, just calloused, clog-like feet  Sometimes they smile.
Then we walk somewhere, I slog around a backpack exclaim over how beautiful / majestic etc it looks. Kids talk about a Modern Family plotline or Mindcraft and try to skim rocks. Occasionally one strays off a path and narrowly avoids falling into a sinkhole abyss. A flightless bird (all brown, all amazingly rare and to be exclaimed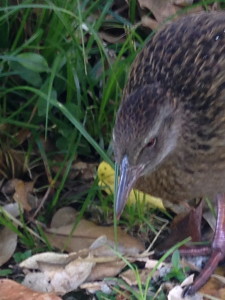 over) waddles past. Then we check into where we're staying. I muse about going out to eat; kids say they want to stay put. I go out to dreary-looking supermarket and ponder over what looks least toxic to eat, whilst they 'finish' their writing. Sometimes it gets finished; sometimes they look at me with sunken eyes and I give in and postpone completion / checking / revision to the next groundhog-day.
Of course much of this isn't New Zealand's fault. I can see that it's a beautiful country, We have met some lovely people – notably Steve, the stone / bone carver. I know that Lou and I would have many happy hours here 'tramping' and exclaiming. But the culture and even look of where we are is SO similar to the Hill Country in Texas that I can't believe we're flown half way around the world to get here. And I know that this difference in culture is what I'm missing. We embarked on this year to experience living in completely different environments. In NZ, we're not living, we're coasting along the surface, and whilst the resurgence of the Maori culture here is very apparent and laudable, it is a packaged and marketed offering as far as tourists are concerned, whilst most of the people we've really interacted with could be either English or Texan. We've studied and report on with aspects of Maori culture, Captain Cook, Moas and kiwis, but I think we're all slightly wondering what we're doing here. I know that the kids are learning, but at the moment I think it's mainly that their mother is fallible (oh wait, I think they got that one some time ago), that travel is definitely not an easy option and that whilst their mother is apparently allowed to leave her cellphone on the back bumper and then drive off, if someone leaves a computer 120km away in a library steam will truly come out of her ears.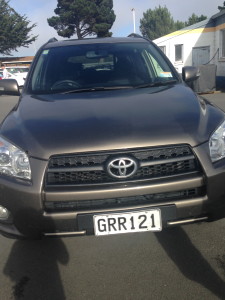 The extra driving meant that we are now going to arrive in Queenstown a day later than expected, so I have taken the sacrilegious step of cancelling the trip to Milford Sound. YES, it's the highlight of New Zealand and one of the true wonders of the natural world, but 8 more hours of driving will tip us over the edge and, as Sacha put it, "We don't see the point of looking at scenery from boats." Lou and I will come back and walk, ahhh and exclaim at all that majesty but for now, we need to get to Queenstown for 3 days of mindless action.